"Unique Marketing Creates Successful Businesses"
Want to have an effective marketing system without having to do it yourself?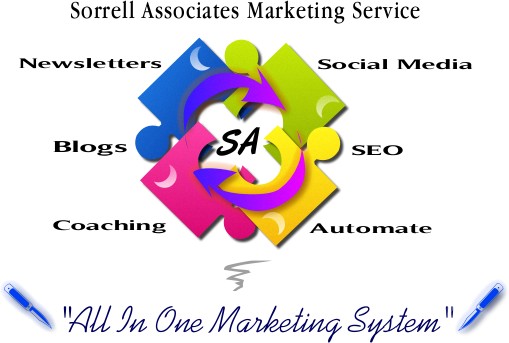 Putting it all together for you!
Customized Newsletter Service:
·
We
create customized monthly newsletters in html, pdf, word, or any format to meet your needs.
Each

newsletter includes Content, design, formatting, and graphics. Every issue will be customized with your company name, the name you would like for your newsletter, phone number, fax number, e-mail address, logo, and motto / slogan

plus links to your website and blog.

Customized Web log or Blog Service:
A professional, customized blog that reflects your branding and the professional nature of your business and keeps your online marketing current, relevant, and searchable.
·
Set up and update Blog.
(Include monthly additions, live links, etc…)
· Set up and maintain Blog submitting and promoting using Wordpress, Technorati and Zimbio on a monthly basis and Ping your Blog monthly. (I will need your bios or company information for these) Plus link to and from your newsletters.
· Our blogging service includes everything above, (YES, including content), and will be updated twice a month. Plus you will have the ability to update it too.

Social Media - Linkedin, Twitter, Myspace, Facebook, etc..
Social media. Set up and maintain announcements on Linkedin, Twitter, and Myspace. Simple updates each time your newsletter and blogs have been posted or updated. Example update:
Our nest newsletter has been posted on our website. Inside this issue * Top performers motivate others to excel. * Productivity boost. * Leadership traits… how do you rate? Etc… Click here to view this issue. (create a live link for people to follow)
Search Engine Optimization:
Want to be listed higher in search engines? We can help you optimize your site, fix your keywords, descriptions, page titles, etc... and get listed much higher.
Make web pages keyword friendly based on your selected keywords. Fix title pages, Metatags, Descriptions, and keywords. Add keywords & search terms to your title, descriptions, metatags, and sales copy on your web site. We do the research based on your business and find out the best keywords for you.
Other Marketing & Website Updates:
Add newsletter sign up form and website link to your Blog.

Create a Drop-in box for home page to capture names and email addresses.
Including JavaScript. Entice people to add their name to your database by utilizing free newsletter, free reports, free consultation, or maybe a giveaway of some kind. We will do all of this for you.
White Papers & Special Reports:
Create white papers and/or special reports. We can use these as giveaways for people signing up for your newsletter, handing out at conferences and speaking engagements, etc… All branded with your info. (Plus we can convert your current special reports and book info into special reports, blog posts, etc…)

Create Landing Pages:
Make a landing page or SEO searchable page for each specific niche like, hospitals, healthcare, long term care, profiles & assessments etc. Include keyword rich format.

Set up auto responders:
Create a couple of auto-responders for specific information. IE… someone e-mails you for specific information on an assessment, and an auto responders automatically sends them a link and a code. OR someone wants additional information on your Leadership Vital signs or strategic planning, and I will set up an auto responder to send the information that they requested. (This will save you a lot of time and show prospects and clients that you are very responsive)
Marketing Coach:
Monthly support. You can call or e-mail anytime for specific help or information. We can strategize on how to take your company to the next level, how to…etc…
Other areas to work on:
Setting up your news reader or home page to work in conjunction with your newsletter, Blog, and web site. This will help your ranking with the search engines.
Potentially add niche domain names, create marketing copy for them, and point them back to your website.
Logo Design and Branding:
We create customized logo's, icon's, button's, or badge's for company blogs, newsletters, and websites.
Want to do it all? If you want to let me take over the marketing including everything above I am willing to give you a huge price break.

"All In One Marketing System"
Includes:
Customized Newsletter Service – HTML, PDF, 2 or 4 page
Customized Web log or Blog Service
Other Marketing & Website Updates
White Papers & Special Reports
Search Engine Optimization:
Research, measure, create, and fix keyword density for your web site.
Create Landing Pages
Set up auto responders
Marketing Coach as needed or requested
Customized logo
<![if !supportLineBreakNewLine]><![endif]>
<![if !supportLineBreakNewLine]> Free Special Offer
I will do a Website Review for the first 5 people that request it... for free!<![endif]><![if !supportLineBreakNewLine]>
This review will consist of checking your websites ranking with the search engines, checking to see if your website is search engine friendly, looking for ways to increase visitors, and offering suggestions to help you take your website to the top of the list. I must limit this to 5 companies due to the time it takes. So call Gary right now! 740-824-4842. <![endif]>
<![if !supportLineBreakNewLine]>WHY AM I DOING THIS?<![endif]>
<![if !supportLineBreakNewLine]>It's simple really. I believe that once you see how we can help you grow your business, you will use us for some or all of your marketing needs!<![endif]>
<![if !supportLineBreakNewLine]>For additional information on any of our services or the "All In One Marketing System" call 740-824-4842 or Click here to e-mail me directly.<![endif]>
AlphaLinks SEO Friendly Directory