Here's how easy it is to get started.
3 easy steps to have a newsletter created for you in 72 hours or less.
Newsletters are the best way to market your product or service, and also create credibility and build your organization's identity among peers, prospects, clients, candidates, members, employees, or vendors.
When you explore Sorrell Associates Customized Newsletter Service, you will find that we have thousands of articles & content for many applications. As well as over 300 writers available.
We provide everything from a completely hands free newsletter to canned boiler plate newsletter templates. You will not find a more comprehensive and user friendly service anywhere. We fit even the most modest budgets with multiple payment options. AND, with our 100% money-back guarantee, you have nothing to lose. Actually, we are so certain about our service that we won't even invoice you until your first newsletter is complete and approved by you. This is the best guarantee in the industry. We are truly setting the pace as the leader in customized newsletters.
Plus, you know our company will be here in the future. Since 1995 we have watched about 97% of newsletter services go out of business and leave their clients in a bind. We are here to stay! With access to over 300 writers, two graphic designers, a marketing consultant, a programmer, three editors, and the best newsletter manager in the industry (who is also a partner)...you can count on us today and in the future.
It's recommended that you publish your newsletter every month to stay top of mind with your contacts. Your customers, prospects, clients, and/or employees will look forward to its arrival. Let us help you stay top of mind.

Start right now using these 3 easy steps:
Step 1: Decide on your preferred format.<![if !vml]>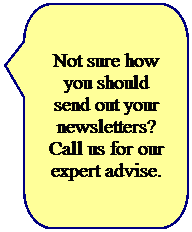 <![endif]>
E-Newsletter: delivered via E-mail - html format. This is also referred to as an e-zine. The newsletter is in the body of the email message.

PDF Version: Ready to print yourself, to post on your web site, or send as an email attachment. PDF format.
Click here for a detailed explanation of the formats
Text-only Version: Ready to cut and paste into your own newsletter software.
Turn-Key E-Zine System: Using an internet based CRM program, we do it all for you. You get HTML formatting, quality content, automated ezine distribution, database management and custom design to match your web-site or other branding look for one low price.
NEW Entry Level Version: With this (boiler plate template) version you receive an already written and ready to send newsletter - in your choice of formats. (HTML, Word, PDF, TEXT) Each professionally written newsletter allows an area for your company message. This newsletter is a great way to start having a monthly newsletter without spending much of your budget.
Step 2: Next choose an option based on your wants and needs.
Platinum: Completely customized newsletter. You send us your articles or choose ours and we do the rest. We will take your articles, proof read, format, design, and create your newsletter. We will add some of our articles if you do not have enough information to fulfill an entire newsletter.
Platinum Samples:

MSWord format: * 2 page click here * 4 page click here
NEW Titanium format: All the benefits of the platinum, plus you receive a custom designed template, you can send us article suggestions to research, write, re-write, and/or get copyright permission to use for your newsletters, and we can use your existing e-mail program for delivery. Special reports and case studies also included it needed.
Titanium Samples:

MSWord format: * 2 page click here * 4 page click here

* Titanium HTML Sample Click Here
Gold: YOU CHOOSE THE ARTICLES newsletter gives you the opportunity to theme each issue or control the content of every issue. We will give you a link to our articles so you can decide which articles you would like in each issue. Also, includes a free newsletter template design, graphics, and all the formatting for you.
Gold Samples:

MSWord format: * 2 page click here * 4 page click here
Silver: Standard newsletter includes Content, design, formatting, and graphics. Every issue will be customized with your company name, the name you would like for your newsletter, phone number, fax number, e-mail address, logo, and motto / slogan. You will receive an original personalized "camera or e-mail ready" newsletter complete with content. Then all you do is e-mail it or make copies and mail your newsletter to your prospects and clients. We will add your article, calendar of events, photo, or logo for free.
Silver Samples:
MSWord format: * 2 page click here * 4 page click here
* Silver HTML Sample Click Here
Bronze: Basic (boiler plate) newsletter includes Content, formatting, and graphics. You add your company information, motto or slogan, and newsletter name. Areas you need to modify are indicated in "RED". You control the distribution via mail or e-mail. Within minutes you will have a completed newsletter.
Bronze Samples:
MSWord format: * 2 page click here ** 4 page click here
* HTML format click here
Step 3: Fill out the sign up form and e-mail it back to us.
Click on this link for the sign up form. Fill it out, and email it back to us. E-mail logo, bio, picture, or any other information you would like in your first issue. We will contact you once we receive your sign up form. You have nothing to lose by getting started right now. Let us prove our newsletter service to you and pay nothing until you are satisfied. Our 100% risk free guarantee is flawless. We don't even charge you for your first issue until after you approve it. If you decide you don't like your newsletter layout, content, etc... we will thank you for giving us the opportunity and never charge you anything. Click here for our risk free guarantee.
Start right now. Click here for our sign up form.
That's it! Start enjoying the positive feedback and follow up for business.
Web Site: www.NewsletterVille.com / Email: Gary@newsletterville.com
Click here to get started today!